The Dordogne, in a few words, is: castles, medieval villages, natural caves, Lascaux, prehistory, gastronomy, rivers, landscapes, and... canoeing.
When you have already descended the Ardèche or the Tarn, you already have a little idea, but when you are totally new to this practice, how does it work?
We often hear these questions: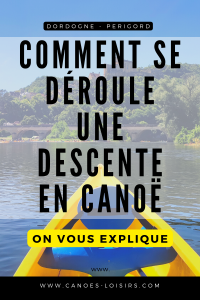 "Is there a lot of power?"
"Are we booking or not?"
"How do we get back to your car?"
"I'm not athletic, will I be okay?"
"Can my 5-year-old make it?"
"Can I bring my dog?"
We explain!
Is there much current on the Dordogne?
To begin with, let's answer this question that we hear the most. To reassure you, the Dordogne is a class 1 river, that is to say a very easy river. Class 1: "Calm and regular watercourses that are very easy to navigate, including, at most, only very slight slopes and eddies." (1)
It is not canyoning or rafting that we offer on our peaceful river. The descent is accessible from theage of 5 to 99 years and more! That's how simple it is!
It is not monotonous for all that. We are lucky to have an extremely rich cultural heritage all along the Dordogne, with many castles and villages. And the Dordogne is classified in the World Network of Biosphere Reserves since 2012.
So to make a long story short, on the Dordogne you will have time to enjoy castles, villages and nature, at your own pace, without rapids or waterfalls.
How does the descent take place?
Do we book or not?
Imagine yourself on your next vacation. It's the middle of July, you have just arrived at your campsite, hotel or gite to spend a week in the Dordogne. You have done some research on the essential activities to do and your host advises you to go canoeing. You quickly realize that during the week, you will be in a canoe at some point!
You can book your descent by phone or on our website. Outside of July and August, it is not necessary to make a reservation, just show up between 9:30 am and 3:30 pm to start your run.
A canoe trip on the Dordogne is as much a must as going to see the Eiffel Tower in Paris!
D-Day: arrival and equipment
On the day of your reservation, program the GPS to Canoe Loisirs, Vitrac Port. We are 8km south of Sarlat, just after the bridge of Vitrac-port, on your left. The yellow canoes!
On site you will find :
A very large, free and shaded parking lot to park your vehicle
Toilets
Next to our reception, you can enjoy a restaurant, children's games, picnic tables. The beach is accessible to all.
If you have made a reservation online, go to the "ONLINE RESERVATION" box. This way, you won't have to follow the queue to pay for your canoe trip and you can save precious time! If you have booked by phone or if you have not booked at all, go to the main cashier. You can choose between a canoe or a kayak according to your wishes. Dogs are allowed (they do not have to be on a leash), and the maximum capacity per canoe is 250 kg. You can also take with you a waterproof container that we offer for rent, to store picnic, towels, personal effects and cameras.
Then direction the equipment:
The flotation vest, essential and mandatory. We offer 5 different sizes, adapted to all morphologies.
The paddles. Single or double, large, small or medium (depending on your size).
Our team of more than 30 people is present in the middle of summer to give you a short navigation course before getting into your canoe.
Well equipped and advised, we head for the beach to get into your boat.
A little push for the start and here you are on the water, passing quickly under the first bridge of Vitrac-port. A beautiful day ahead!
Advice : You will have taken care to apply sun cream if the sun is shining (beware of the reverberation effect on the water), to put on a head covering, and to wear water shoes or closed shoes (a pair of sneakers can be quite suitable). Indeed, you will have to put your feet in the water to get in or out of your boat, and here are pebble beaches, it is not very stable, it slips and it can cut.
The descent
Here you are on the water, sailing at your own pace. In a canoe, the one who is in charge is the one at the back. And incidentally also the one who doesn't drink... too much... Be careful with the distribution of roles! If you don't move forward, but turn around in circles, it's probably because the roles have to be reversed... or that you didn't pay attention to the recommendations... But don't worry, in general, you'll get the hang of it quickly! The person in front is often in charge of taking pictures and videos, but has to paddle, canoeing is a team sport! For those who are alone in a kayak, you will have to rely only on yourself!
You will be able to take a few breaks (visits, picnics, swimming) to let yourself be guided by the rhythm of the Dordogne. Depending on the season and the water level, the Dordogne can be more or less easy to navigate. There are no "rapids", but in summer, in case of heat wave, you will have to give some good paddle strokes to finish your descent and not miss the last shuttle (see below). That said, there is no particular athletic ability required to follow one of our canoe routes.
Our "flagship" descent is the route of the Valley of the Five Castles from Vitrac to Beynac, during which, you will admire... five castles! But not only! It will also be an opportunity to walk along beautiful villages (including La Roque Gageac, one of the Most Beautiful Villages in France) and to admire nature (frogs, dragonflies and damselflies, herons, swans, ducks, etc.). The route is also embellished with natural diving boards, pebble beaches for picnic or relaxation breaks. And if you are curious, there are plenty of unusual things to discover!
The time indicated for our routes corresponds to the average time of descent, without stops. Count on 1 hour to 1h30 more with picnic or swimming stops or visits.
We have 5 courses:
* Please note that the departures upstream from Vitrac (Carsac and Calviac) are at 10 am, as a shuttle will take you to your starting point.
The end of the course and the return to your car
If your arrival is Vitrac, then you will go down at your own pace to Vitrac where your vehicle is parked.
If your arrival is downstream from Vitrac (Beynac or Castelnaud), then a shuttle bus will take you back to your vehicle. Our shuttle buses (50 seats) leave every hour from Beynac, from 12:00 to 18:00 (19:00 in July and August). And 15 minutes after Beynac, it goes to Castelnaud (so 12:15, 13:15...). In Beynac, you can quench your thirst, eat an ice cream or a snack in our guinguette.
Whether in Beynac or Castelnaud, the beaches are equipped to receive your canoes, and a team is in place to help you and take your equipment. You will board the shuttle only with your container if you have one. The canoes, vests and paddles are brought back later.
A few minutes after boarding the shuttle, you will be dropped off at the parking lot of our base. You just have to free yourself from your container and get back to your vehicle. The day in our company is over, unless you still want to enjoy the banks of the Dordogne for a little swim?
We can make you a promise: you will appreciate the Dordogne valley differently on a canoe. By car, on the winding roads, it is already superb; on foot, it is grandiose because you see many hidden corners, and in a canoe, it is the apotheosis! The castles and villages are revealed little by little, at the speed of your canoe.
If you have any questions 05 53 28 23 43 or by mail contact@canoes-loisirs.com
If you need recommendations HERE
(1) Source https://www.dordognecanoe.com/Praticabilite-des-cours-d-eau