Butterfly Canoes
Nautical base in Castelnaud
In Castelnaud in the Périgord Noir, the Butterfly base welcomes you for a canoeing trip down the Dordogne. With family or friends, discover the beauty of the Périgord Noir by canoe on the Espérance river.
Le Pont du Pech
24250 CASTELNAUD-LA-CHAPELLE
Tel. +33 (0)5 53 30 41 21
Email: contact@canoes-butterfly.fr
Website: www.canoes-butterfly.fr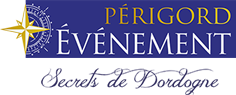 Périgord Event
Agency specialising in team building
We have more than 25 years of experience in the event industry and have an extensive network that enables us to provide the best possible service to our clients. We offer consulting, design and creation. The projects we create are based on the natural, cultural and gastronomic capital of the region.
Le Pont du Pech
24250 CASTELNAUD-LA-CHAPELLE
Tel. +33 (0)5 53 28 23 43
Email: contact@perigord-evenement.com
Website: www.perigord-evenement.com